The European Research Days Canada 2020, which was organised by EURAXESS and Simon Fraser University (SFU), took place virtually on the 24 and 25 November. The event is held to celebrate and promote Europe as a research and innovation hub and aims to provide an overview of the EU-Canada research collaboration landscape. As part of this aim, a number of panels and workshops are held showcasing funding and participation instruments such as ERC grants, MSCA fellowships and the COST programme, which Canadian researchers can utilise to build and expand their reach into European research and development networks.
Director of the COST Association, Ronald de Bruin was invited to present a general overview of the COST programme and activities, as part of the opening plenary. The event attracted a sizeable audience of approximately 300 people, comprised of researchers, students and research administrators, who were keen to discover how they could participate in science, technology and humanities focused research networks.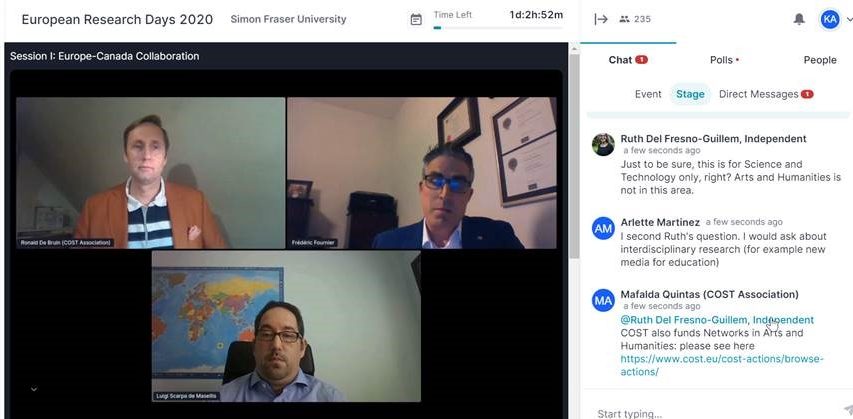 Speaking of Canada's role within the COST programme, the Director explained, "there has been a longstanding cooperation between Canada and COST resulting in a stable participation level of around 15% of all running COST Actions. Currently researchers from Canada are working on a large variety of topics from 5G communication networks, to cosmology to solving questions related to ageing." He then encouraged the audience to engage with Actions and utilise the networking tools that they offer.
Thank you @FredFournierTCS for moderating this session and to Luigi Scarpa de Masellis and Dr. Ronald de Bruin for insights on programs and grants that are available for EU-Canada collaboration. What a fruitful discussion during the Q&A session! #ERD2020 #Euraxess #SFUResearch pic.twitter.com/aqoOvNsY0R

— SFU International (@SFUInt) November 24, 2020
In a separate session, COST hosted a dedicated workshop to introduce the details of the programme. This session gave attendees practical details of how to participate and testimonials from Canadian COST participants of the many benefits of taking part. A poll during the workshop revealed that 70% of participants were completely new to the COST programme but the vast majority were interested to take part in the programme.
Background
Canada is one of the oldest and closest partners of the EU, with diplomatic relations formally starting in 1976, following the formalisation of the European Co-operation Framework Agreement. In 1996 an Agreement for Scientific and Technological Cooperation was reached between the two, which ever since has seen cooperation growing in many areas including aviation, research infrastructures and marine research.
Further information
Watch the video presentations here
Official event listing and agenda
Event listing – COST website