Modeling Desert Dust Exposures in Epidemiologic Short-term Health Effects Studies
Author(s): Tobías, Aurelio; Stafoggia, Massimo
Publisher(s): Wolters Kluwer Health, Inc.
doi: 10.1097/EDE.0000000000001255
Desert dust is assumed to have substantial adverse effects on human health. However, the epidemiologic evidence is still inconsistent, mainly because previous studies used different metrics for dust exposure and its corresponding epidemiologic analysis. We aim to provide a standardized approach to the methodology for evaluating the short-term health effects of desert dust.
Conceptualizing Environmental Citizenship for 21st Century Education
Editor(s): Hadjichambis, A.C., Reis, P., Paraskeva-Hadjichambi, D., Činčera, J., Boeve-de Pauw, J., Gericke, N., Knippels, M.C. (Eds.)
Publisher: Springer
ISBN: 978-3-030-20249-1
This Open Access book is about the development of a common understanding of environmental citizenship. It conceptualizes and frames environmental citizenship taking an educational perspective. Organized in four complementary parts, the book first explains the political, economic and societal dimensions of the concept. Next, it examines environmental citizenship as a psychological concept with a specific focus on knowledge, values, beliefs and attitudes. It then explores environmental citizenship within the context of environmental education and education for sustainability. It elaborates responsible environmental behaviour, youth activism and education for sustainability through the lens of environmental citizenship. Finally, it discusses the concept within the context of different educational levels, such as primary and secondary education in formal and non-formal settings.
Environmental citizenship is a key factor in sustainability, green and cycle economy, and low-carbon society, and an important aspect in addressing global environmental problems. It has been an influential concept in many different arenas such as economy, policy, philosophy, and organizational marketing. In the field of education, the concept could be better exploited and established, however. Education and, especially, environmental discourses in science education have a great deal to contribute to the adoption and promotion of environmental citizenship.
The Archaeology of Europe's Drowned Landscapes
Author
Publisher
Springer Link
ISBN – 978-3-030-37367-2
This open access volume provides for the first time a comprehensive description and scientific evaluation of underwater archaeological finds referring to human occupation of the continental shelf around the coastlines of Europe and the Mediterranean when sea levels were lower than present. These are the largest body of underwater finds worldwide, amounting to over 2500 find spots, ranging from individual stone tools to underwater villages with unique conditions of preservation. The material reviewed here ranges in date from the Lower Palaeolithic period to the Bronze Age and covers 20 countries bordering all the major marine basins from the Atlantic coasts of Ireland and Norway to the Black Sea, and from the western Baltic to the eastern Mediterranean. The finds from each country are presented in their archaeological context, with information on the history of discovery, conditions of preservation and visibility, their relationship to regional changes in sea-level and coastal geomorphology, and the institutional arrangements for their investigation and protection. Editorial introductions summarise the findings from each of the major marine basins. There is also a final section with extensive discussion of the historical background and the legal and regulatory frameworks that inform the management of the underwater cultural heritage and collaboration between offshore industries, archaeologists and government agencies.
The volume is based on the work of COST Action TD0902 SPLASHCOS, a multi-disciplinary and multi-national research network supported by the EU-funded COST organisation (European Cooperation in Science and Technology). The primary readership is research and professional archaeologists, marine and Quaternary scientists, cultural-heritage managers, commercial and governmental organisations, policy makers, and all those with an interest in the sea floor of the continental shelf and the human impact of changes in climate, sea-level and coastal geomorphology.
Volume 58, Issue 2 Supplement, November 2019
Author Christine Morand et al
Publisher Springer Link
ISSN 1436-6207
In this journal released by Springer, the main findings of the COST Positive Network are explored in 5 articles centered around 'Interindividual Variation in Response to Consumption of Plant Food Bioactives and Determinants Involved'.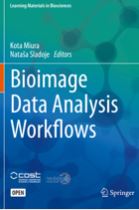 Bioimage Data Analysis Workflows
 Editors: Miura, Kota, Sladoje, Nataša, (Eds.)
Publisher(s): Springer
ISBN 978-3-030-22386-1
Open access book, downloadable for free here.
This Open Access textbook provides students and researchers in the life sciences with essential practical information on how to quantitatively analyze data images. It refrains from focusing on theory, and instead uses practical examples and step-by step protocols to familiarize readers with the most commonly used image processing and analysis platforms such as ImageJ, MatLab and Python. Besides gaining knowhow on algorithm usage, readers will learn how to create an analysis pipeline by scripting language; these skills are important in order to document reproducible image analysis workflows.
The textbook is chiefly intended for advanced undergraduates in the life sciences and biomedicine without a theoretical background in data analysis, as well as for postdocs, staff scientists and faculty members who need to perform regular quantitative analyses of microscopy images.
Nature-Based Flood Risk Management on Private Land
 Editors: Hartmann, Thomas, Slavikova, Lenka, McCarthy, Simon (Eds.)
Publisher(s): Springer
ISBN 978-3-030-23842-1
Open access book, downloadable for free here.
This open access book addresses the various disciplinary aspects of nature-based solutions in flood risk management on private land. In recent decades, water management has been moving towards nature-based solutions. These are assumed to be much more multi-purpose than traditional "grey infrastructures" and seem to be regarded as a panacea for many environmental issues. At the same time, such measures require more – and mostly privately owned – land and more diverse stakeholder involvement than traditional (grey) engineering approaches. They also present challenges related to different disciplines. Nature-based solutions for flood risk management not only require technical expertise, but also call for interdisciplinary insights from land-use planning, economics, property rights, sociology, landscape planning, ecology, hydrology, agriculture and other disciplines to address the challenges of implementing them. Ultimately, nature-based flood risk management is a multi-disciplinary endeavor. Featuring numerous case studies of nature-based flood risk management accompanied by commentaries, this book presents brief academic reflections from two different disciplinary perspectives that critically highlight which specific aspects are of significance, and as such, underscore the multi-disciplinary nature of the challenges faced.
State of the Art Report for Smart Habitat for Older Persons
Edited by Jake Kaner, Rafael Maestre, Petre Lameski,
Michal Isaacson, Kuldar Taveter, Signe Tomsone, Petra
Maresova, Michael Burnard, and Francisco Melero.
This document reports the State of the Art of science and practice on three topics
related to smart and healthy ageing at home: furniture and habitats, Information and
Communication Technologies (ICT), and healthcare. The reports were prepared by
the working groups of COST Action CA16226, Sheld-on. Sheld-on is a network of
researchers, user representatives, industry members, and other stakeholders. The three
domains covered in this report were the areas of interest for three working groups from
the COST Action. The aim of each working group was to assess the State of the Art for
disciplinary understanding, identification of advances in smart furniture and habitat,
products, industries and success stories. The findings on these topics of all working
groups are compiled here. Due to the different backgrounds of the members of each
of the working groups, the document is divided in three separate parts that can be
considered as separate State of the Art reports. The goal of this document is to be used
as input in the fourth working group of Sheld-on COST Action: Solutions for Ageing
Well at Home, in the Community, and at Work, where experts from the three different
domains converge to a single working group in order to achieve the action objectives.